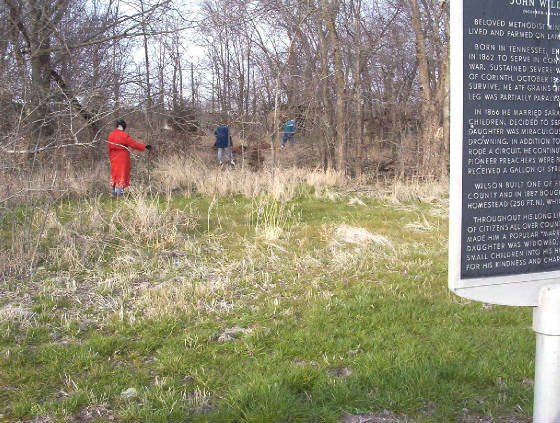 This is the John and Sarah Wilson property where their two-story home once stood; graced only by the historical marker honoring John Wilson. The marker was erected October 5, 1969, and is locted one mile east of Lake Creek, Texas on F.M. Road 198 in Delta County.
John and Sarah were married April 3, 1866, not long after he returned form the Civil War where he served in the Confederate Army. They bought this home from Cyrus C. Taylor about 1887. The house was built in 1859.
When the Taylors lived there, Cyrus C. Taylor was the father of Benoni B. Taylor of the James M. Daniel's Lamar County Artillery Company of A.S.C., known as the
Daniel's Texas Battery
. (This part of Lamar County was later changed to Delta County, and is still Delta County today.)
Robert William Wilson and Celina A. (Robinson), from North Carolina, were the parents of Allen Green Wilson, who was born in Smith County, Tennessee, in 1819. Presley Askins and Mary (Finch), also from North Carolina, were the parents of of Elizabeth Askins, who married Allen Green Wilson. Their son John William Wilson was born in Smith County, Tennessee, on October 3, 1841. The records show the family living in Missouri when John was eight years old. Ann (Lee) McGuire, a cousin of General Robert E. Lee, was born Virginia on July 17, 1790. She served in the mess of a ship in the Chesapeake Bay during the war of 1812. Her daughter, Lucinda McGuire, married D.S.R. George. Their daughter, Sarah Ann George, was born in 1847; she married John William Wilson in Lamar County in Texas on April 3, 1866.
'We do not have the complete story of how John William Wilson and Sarah Ann George came to be in Texas. We do know John served in the Civil War and was shot in his left leg and the mini ball could not be removed. It remained there all his life, and he walked with a limp. Although he was always in pain, it is said that he never complained.
He was left for dead on the battlefield after the Battle of Corinth on October 3, 1862. The records show that he survived by eating corn left by the horses. (Corn he found in horse manure.) He was taken prisoner by the Union soldiers, and was taken to a Confiderate hospital as part of a prison exchange.
After he recovered from his wounds he was not able to return to active duty, so he remain there at the hospital and cared for the other soldiers for the rest of the war. He had volunteered for service in Missouri on January 19, 1862. He was discharged in Mississippi.
When the first of the twelve children of John and Sarah Wilson, Ida Bell, was three, a simple minded servant threw the child into a pool where she almost drowned. The distraught parents were able to save the child (miraculously). John William Wilson took an oath, then and there, that he would serve the Lord thereafter. He became a minister of the Methodist Protestant Church of Lamar (later that part of the county was renamed Delta) County. He continued to farm; country preachers were not paid in those days. He built one of the first gins in Delta County: it was powered by oxen; it burned down and he built another. He was one of the most highly respected citizens of the county.
The two story house was two miles east of Lake Creek, Texas on Farm Road 198. It was built in 1859. When the Cyrus Taylor family owned it; it was a social center and dances were held in the large east room of the second story.
John Wilson was a farmer and he also built the first cotton gin in Delta County. It was powered by oxen. The gin later burned and he built a second gin. John was also a preacher and pastored the Methodist Protestant Church of, what at that time was Lamar County and later became Delta County. He was known as the, "Marrying Parson." The marriage license records at the Delta County courthouse in Cooper show that he married more than three hundred couples. He was also a circuit preacher for that church for the rest of his life. In those days preachers did not always get paid for doing the Lord's work, so he was still a farmer and a landowner. However, he sometimes received donations of eggs, chickens, pigs and other things raised on the farm. Once he was given a gallon of syrup.
John W. Wilson was born October 10, 1847 and died September 9, 1920.

Sarah Ann (George) Wilson was born June 8, 1847 and died December 13, 1939.

John and Sarah Wilson had twelve children. At various times others also lived in the Wilson home. When their daughter Winnie, married Paris 'Pat' Ayles, they also lived there. They had three children, but two died as babies, and only Virginia lived. Winnie and Pat lived there until just before they died. John and Sarah's daughter Cumi married Charles Skeen. They had two children: Johnny and Calvin. Cumi was left a widow when the children were small so they lived in the Wilson home. Another daughter, Ida Bell (Wilson) Stegal was also left a widow with six children and they lived in the Wilson home until all the children were grown. Then Ida bought a house in Lake Creek where she lived until she died. So you can just imagine what a housefull it must have been.
| | |
| --- | --- |
|   | This old barn that stands a short distance from where the house used to be, is one of the few remaining structures on the property. |
|   |   |
The following items were sent ot me from Phyllis Carpenter.
The following are excerpts from letters, notes and diary of Rev. Daniel T. Lake who was a Methodist Protestant Minister in the Texas Conference. I very much appreciate Paul Dafft sending them to me.

Pg160-161 Letter from D T Lake dtd Cooper, Tx, 11-29-1879
"The Texas Annual Conference, MP Church, met at Sulphur Bluff, October
29th.
***APPOINTMENTS: JW Wilson without appointment at his own request."


Pg 189-190-191-192 Letter from DT Lake dtd Mt Pleasant, Tx 6-21-1880
"The 21st session of the Texas District conference convened at Mt.
Pleasant, 15 Oct 1868. (At this point, Rev Lake was reviewing old
conference notes) Of the 29 ministers on conference roll, two thirds are
absent. Nine lay delegates present. HC Stillwell elected President for
the ensuing conference year and MF Rosser Secretary. From this time
forward, the Journal is more neatly &intelligently kept. ****Bro. JW
Wilson appears to have been received and placed under stationing
authority at this session, though his name does not appear in the report
of the committee on "Itinerancey and orders."

Pg 208-209-210 Letter from DT Lake dtd Mt Pleasant, Tx, 8-25-1880
"The 24th session of the Annual Conference of the MP Church of the Texas
District, met at Charleston, Delta Co, Nov 22, 1871. ****Tarrant (Sulphur
Bluff) , JW Wilson, claim $100.00, received $50.00, value of church
property $500.00, members 39. (note $100.00 was the amount the
congregation agreed to pay and $50.00 was all they actually paid - Paul)"

Pg 213-214-215 Letter from DT Lake dtd Mt. Pleasant, Oct 24, 1880
"Bro. JW Wilson writes: 'Your letters in The Protestant continue to be a
feast for me. I hope you will continue them."


Pg 219-220-221-223-224 Letter DT Lake undated, Probably Oct 1880
"The 23rd session of the Texas Annual conference convened at Forney, a
live little town of about 500 inhabitants, situated on a highly
productive prairie country on the Pacific Railroad, twenty miles East of
Dallas, Wednesday, at 10 o'clock a.m. **** I will now give such reports
and resolutions, as will be of interest to the church. **** STATISTICAL:
JW Wilson, Chairman: Number of members 1732, number of ministers 15,
accessions 277, withdrawals 75, deaths 8. ****MF Rosser and JW Wilson
committee on examination for admission and elders orders. ****Bro Rosser
appointed to preach the introductory sermon at the next session, JW
Wilson alternate. ****Paris sub-district - JW Wilson Chairman;"


Pg 237-238 Letter DT Lake undated
"Review of the 26th session of the Texas Conference, held at Oak Grove,
Hunt Co, beginning October 30th, 1873. ****Members present: MF Rosser,
R. Boyd, HC Stillwell, GW Johnson, JW Ashcraft, DK Young, EBD Johnson, JS
York, JW Wilson, Wm M Thompson, JM Proctor, S Rundell, JC Carroll &WS
Wade.****"


Pg 289 Letter from DT Lake, undated:
"The 42nd session of the Texas annual Conference convened in Sulphur
Bluff, Hopkins County, at 2 o'clock Nov 13, 1889.**** APPOINTMENTS:
Cooper circuit, JM Bauman, JW Wilson, supernumerary."


Pg 334 Letter from DT Lake undated:
"APPOINTMENTS TEXAS DISTRICT WITH POST OFFICES
(Undated - This article appeared in the Dec 9, 1891 issue of the
Methodist Protestant, two days after death of Rev Lake.
Cooper Circuit, JW Wilson, Lake Creek Post Office."

Sincerely - Paul

I got the Masonic records and they were very interesting. I did find a
record of Rev Lake being a Mason in his writings. There was a receipt
from a lodge in Athens showing his dues being paid, but I had no idea
he
remained a member. I thought it might be a one-time deal, but
apparently
not.
Now, where did you find this record??? I've tried to locate some
Masonic
records, but have had very little success, maybe because I'm not a
Mason.
If Rev Lake was still a Mason at time of his death, there should be
another record similar to your's for him.
I do know that the Mason keep a book ledger showing deaths of each of
their members. I remember seeing one in Hope , Arkansas, which showed
the death of my Great Grandfather John Sterling in Little River Co, AR
back in 1869.