Lake Creek holds many fond memories of my childhood. I was born and raised there until I married. It is also the place many of my ancestors, my father Wesley Thomas Johnson, his mother Sarah (Wilson) Johnson, her parents John and Sarah Wilson, Sarah's parents David and Lucinda George and many more. Many of their graves can be found in the Lake Creek Cemetery and other Delta County cemeteries such as Charleston.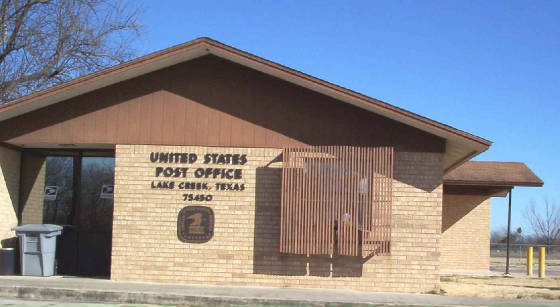 LAKE CREEK, TEXAS.
Lake Creek is at the intersection of Farm Roads 198 and 1335, six miles northeast of Cooper in north central Delta County. The area, originally part of the George W. Cox survey, was settled as early as March 1848, when the original post office opened under the name Odd's Creek with John Wood as postmaster. The facility closed after six months. After the Civil Warqv more settlers arrived to farm the rich land along the creek. These included John W. and Sarah Ann Wilson, who arrived late in the 1860s. Wilson was a Methodist circuit rider and cotton farmer, who soon built one of the first gins in Delta County. In 1873 Thomas Wilson Stegall, a Baptist minister and Confederate veteran, constructed a blacksmith shop, around which the community developed. The post office was reopened under the name Lake Creek in 1885, and by 1888 the mail was delivered daily. That year postmaster W. C. Yeager reported his dry goods and grocery store, a general store, one blacksmith shop, a corn mill and gin, a hardware store, a jeweler, and two grocers. W. H. Rase was justice of the peace, and W. B. Chambers was constable. The town had a population of 200, Methodist, Episcopalian, Presbyterian, and First Christian churches, and two doctors. L. M. Miller was principal of the local school, Evergreen Academy.
In 1890 the population had decreased to 100, and many businesses had closed. Postmaster William H. Sandridge, who owned a candy store and a blacksmith shop, delivered the mail three times a week. Other businesses included a gristmill and a grocery and dry goods store. S. T. Johnson served as justice of the peace. Cotton remained the most lucrative crop, and the town supported two large gins. Farmers who had embraced the Populist movement (see PEOPLE'S PARTY) formed a cooperative that opened the Lake Creek Cooperative Association General Store.
In 1892 Lake Creek had 120 inhabitants and a combination general store and pharmacy, a watch repairman, a flour mill and cotton gin, two dry goods stores, and two doctors. In 1904 residents numbered 139. The three-teacher school enrolled 112 students the following year. Soon thereafter, the Lake Creek School District was organized; it later absorbed all of the Andersonville and part of the Darwin school systems. By 1912 the school was the center of community activities. The school was on a dirt road and had no electricity or running water. In 1943 the school consolidated, along with other Delta and Lamar County schools, with Midway School (later torn down and rebuilt and named Delmar School) in Lamar County. The children rode the schoolbus from the Lake Creek store to Midway.
The Lake Creek School was torn down and a new blacktop road, F.M. 198, was built across the old school ground.
Though the ravages of the boll weevilqv had reduced businesses to one, rebuilding was under way. In 1914 postmaster John H. Devaney reported 150 residents, including two blacksmiths, one wagonmaker, and two doctors. The largest businesses were Devaney Brothers Druggists and Oscar Anderson Cotton Gin, and the community also had new telephone connections. Throughout the 1920s and 1930s the population of Lake Creek remained at 200. Several businesses also managed to survive hard times. Maps for 1936 showed a school, two churches, two cemeteries, and five businesses, on bituminous and gravel roads, at the site.
During the 1950s the cotton industry became even less profitable, and by 1964 the population of Lake Creek had declined to 100; that year the town had two churches, two cemeteries, three businesses, and a cluster of thirty dwellings at the intersection of Farm Road 198 and a dirt road. In 1970 local children attended school in the Cooper Independent School District. By 1976 a community center had been built; maps for 1984 showed two churches, the post office, three businesses, and a nearby factory. In 1990 Lake Creek had sixty inhabitants and one business.
Taken partly from: BIBLIOGRAPHY: John J. Germann and Myron Janzen, Texas Post Offices by County (1986). Paul Garland Hervey, A History of Education in Delta County, Texas (Ph.D. dissertation, University of Texas, 1951). Wilma Ross and Billie Phillips, Photos and Tales of Delta County (1976).
Below are some of our favorite links about Lake Creek, Delta County, Texas and surrounding counties.
This old metal bridge crosses Lake Creek (the creek from which Lake Creek, Texas was named) on highway 1335 on the south side of the cemetery.

 

Lake Creek United Methodist Church; the only church left in Lake Creek. There are no business left, and only a few houses.

Lake Creek Cemetery