John William Wilson, and Sarah Ann George Wilson
John and Sarah Wilson are my great grandparents, my father's (Wes Tom Johnson) grandparents, his mother's (Sarah Catherine Wilson Johnson) parents.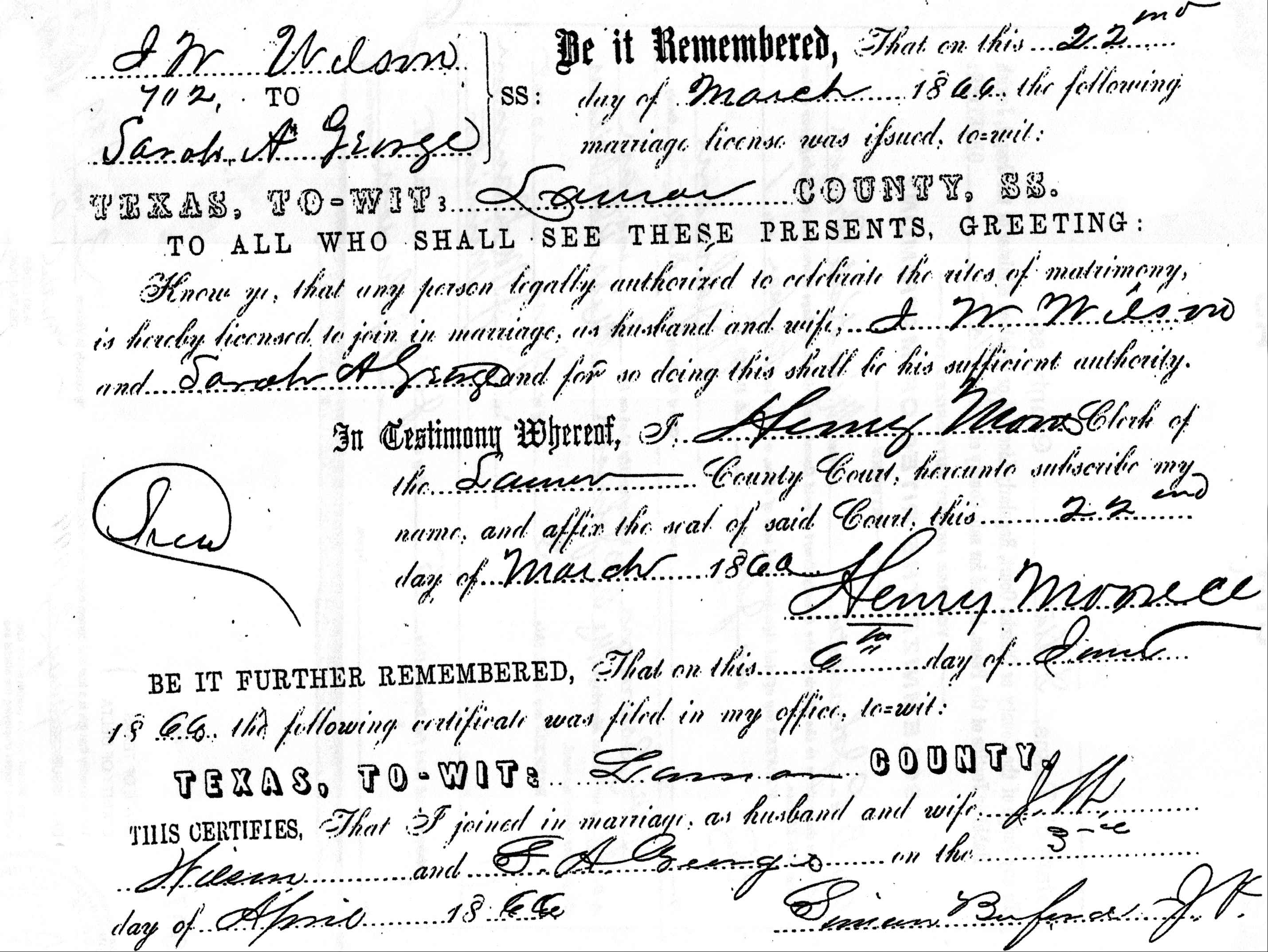 John & Sarah's Wilson's Marriage License
John & Sarah Wilson's home, Delta County, Lake Creek Texas.
The man seated holding a picture, is John Wilson. The woman seated to his right is Sarah George Wilson, his wife. The man with one leg at the far right is Thomas Allen Wilson (John's brother).

John and Thomas both enlisted in the Confederate Army the same day, and fought in the Civil War. John was wounded in the battle of Corinth, and was left for dead on the battlefield. He was captured the next day by the Union soldiers and delivered to a Confederate hospital. He was shot in the leg and the mini-ball could not be removed. He walked with a limp for the rest of his life.

Thomas lost his leg when he was hit by a cannon ball. He walked with a wooden leg called a "peg leg."

No one knows for sure who the others are, but Vivian said, "The girl with the long hair might be Aunt Cumie. She wore her hair long so that it hung down and coverd her short arms. The next one might be Anna Stegall Barnet, (Aunt Ida's daughter)."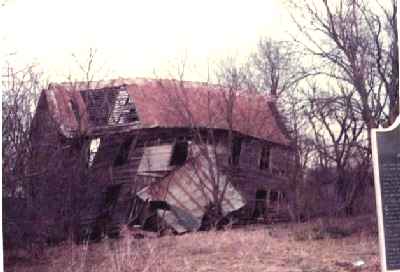 This picture of the Wilson home was taken in the mid 1980's shortly before it was torn down. (You can see the edge of the Historical Marker on the far right).
In regard to the old house, as it stood vacant and in much disarray shortly before it was torn down, Angeline Sharp wrote, "To the unknowning, it may seem the only sounds there now, are the moaning and the whistling of the wind through the broken windows and sagging timbers, but the old house is telling tales of a hunderd-ninteen years of joy and sorrow, youth and age, birth and death, failure and success, fear and courage, pain and pleasure, struggle and triumph, and most of all, goodness and love."
Allens parents were, Robert WJohn Wilson's parents were, Allen Green Wilson & Elizabeth M. (Askins) Wilson. illiam & Celine A. (Robinson) Wilson.
Elizabeth'a parents were, Presley & Mary (Finch) Askins.
Mary Finch's father was, William Finch Jr.
Presley's parents were, William Jr. & Catherine (Jones) Askins.
William's parents were, William Sr. & Mary (Gregg) Askins.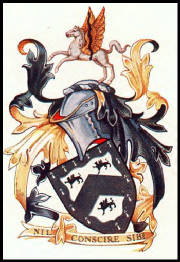 Finch Family Arms
My G-G-G grandmother was Mary 'Polly' Finch Askins, mother of Elizabeth Askins Wilson. Mary was born in VA and was the daughter of Griffin Finch and Mary Elizabeth White. Griffin Finch's father was William Finch. The name of his mother is unknown.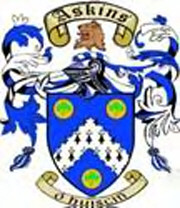 Askins Crest
My G-G-G grandfather was Presley Askins. His daughter, Elizabeth M. Askins, was married to Allen Green Wilson.
Go to: John & Sarah Wilson, Page 2